Free Online Retirement Class
How Tax Planning Changes Through Retirement
In this powerful online retirement class, you'll learn about key considerations for reducing taxes in retirement.
​
We'll teach you about Roth conversions for tax free income, the social security torpedo, tax planning strategies, how to avoid paying higher medicare premiums in retirement, and more...
Free Online Retirement Class
How to Invest in Retirement: What Every Investor Needs to Know
How can you make your investment portfolio last in retirement without running out of money?
​
In this powerful retirement class, you'll learn how to address the five key components of prudent investing in retirement including:
​
How to manage investment risk

How to improve expected returns

How to generate a regular stream of income

How to reduce taxes on your investment earnings
Free Online Retirement Class
How to Diversify a Portfolio in Retirement
Don't put all your eggs in one basket, right? But, what does that really mean when it comes to investing in retirement?
​
Diversification in retirement is about a lot more than having a lot of investments.
​
In this online retirement class, you'll learn what a well-diversified portfolio really means, key considerations for diversifying your retirement savings, and how to implement a strategy built for the long-term.
Frequently asked questions
Apa itu waitlist challenge?
---
Sebuah periode di mana kamu berkesempatan untuk mendapatkan akses eksklusif lebih cepat ke aplikasi Nanovest, dan juga mendapatkan rewards yang menarik! Kamu bisa menang 100.000 NanoByte Token (NBT) dalam periode ini. Kunjungi nanobytetoken.io untuk pelajari lebih lanjut mengenai NBT.
---
Apa itu NanoByte Token (NBT)?
---
NBT adalah crypto token dari Nanovest. Kamu bisa dapetin NBT dengan download Nanovest & ikutan waitlist challenge. Selain itu, kamu juga bisa dapet NBT dengan ngelakuin berbagai aktivitas dan transaksi setelah kamu dapat full access ke semua fitur di Nanovest.
---
Kapan saya bisa mulai investasi saham & aset kripto di Nanovest?
---
Saat ini, aplikasi Nanovest sedang dalam rilis terbatas. Kamu bisa mulai investasi setelah kamu dirilis dari waitlist. Kami akan memulai proses rilis pada 10 Desember 2021. Semakin tinggi posisimu di waitlist challenge, semakin cepat kamu dirilis & bisa menikmati seluruh fitur di Nanovest! Ayo download Nanovest & join waitlist sekarang dan jadilah yang pertama untuk nikmati semua fiturnya!
---
Apa itu Nanovest?
---
Nanovest adalah aplikasi investasi revolusioner di Indonesia. Di sini, kamu bisa investasi saham luar negeri & aset kripto dalam satu aplikasi, pertama di Indonesia. Selain itu, kamu bisa transfer uang gratis ke siapa pun & kapan pun! Semua investasi di Nanovest mulai dari Rp 5ribu aja, bebas biaya transaksi, dan tentunya gampang banget. Kamu juga bisa dapetin berbagai hadiah menarik, mulai dari uang, aset kripto, dan masih banyak lagi. Jadi, yuk download Nanovest & ikutan waitlist sekarang!
---
Sampai kapan waitlist challenge akan berlangsung?
---
Waitlist challenge dimulai pada 22 November 2021 dan akan berakhir pada 10 Desember 2021.
---
Apa yang terjadi ketika saya masih berada di dalam waitlist?
---
Kami berusaha keras untuk menghadirkan Nanovest secepatnya kepada kamu. Kami akan merilis semua user secepat mungkin, dan tentu saja kamu akan diberi tahu jika sudah dirilis! Penasaran dengan aplikasi Nanovest? Yuk, intip lebih lanjut di bagian "News" di halaman Utama aplikasi Nanovest
---
Bagaimana cara kerja waitlist challenge?
---
Setelah kamu daftar ke Nanovest, kamu bisa lihat posisimu di waitlist / daftar tunggu. Ajak teman ke Nanovest sebanyak-banyaknya pake kode referral kamu. Saat temanmu daftar ke Nanovest pake kode referralmu, posisimu di waitlist akan naik. Kamu dan temanmu juga akan dapat masing-masing 20 NBT.
Selain itu, kamu juga bisa menang 100.000 NBT tergantung dengan posisimu di akhir periode waitlist challenge (lihat tabel di bawah):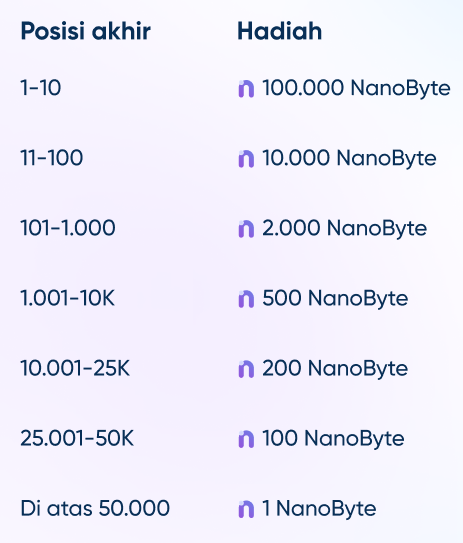 ---
---